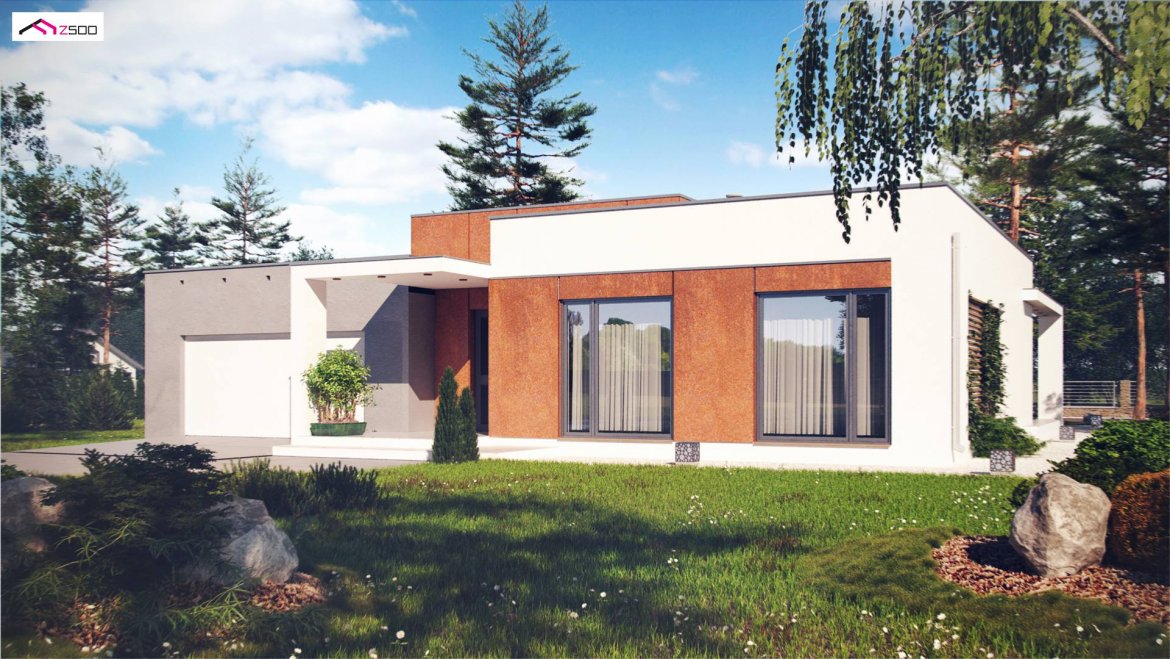 HOUSE DESIGN WITH AN ATTIC ZX104, PDJ -7165
DESCRIPTION
Zx104 is a design of a modern one-story house , with 3 comfortable rooms, a garage for two cars and a kitchen from the garden side.
The minimalist architecture is distinguished by its original design, with motifs of regular divisions and subdued plaster with a dominant color. From the living room, the exit to the covered terrace is a simple form in the form of a frame, as is the entrance arcade to the house. The pool is an additional element extending the terrace and providing relaxation on hot days, but it is not mandatory.
In this house there are only large glazing , to the ground, allowing a lot of daylight into the interior, as well as in the living room and in the rooms and bathroom. Each room has a lot of space for long and roomy wardrobes. Due to the optimization of the area in order to reduce construction costs, one shared bathroom for 3 bedrooms was designed, while an additional toilet is located near the hallway and living room.
The kitchen with a long worktop has access to a separate pantry, which is also connected to the utility room and garage, which makes it easier to carry and store purchases. The window has been designed to illuminate the kitchen counter as much as possible, leaving the possibility of hanging cabinets at a convenient height.
In the large utility room , at the back of the garage, you can also place the garden door instead of the window.
TECHNICAL DATA
HOUSE DESIGN WITH AN ATTIC ZX104, PDJ -7165
Usable floor area 119.76 m²
The built-up area is 197.66 m²
Cubature 433.60 m³
A depression angle of a roof 2.00 °
Roof area: 165.80 m²
Building height 4.55 m
Min. Plot dimensions 21.44×23.74 m
Garage 34.91 m²
Author Piotr Zwierzyński