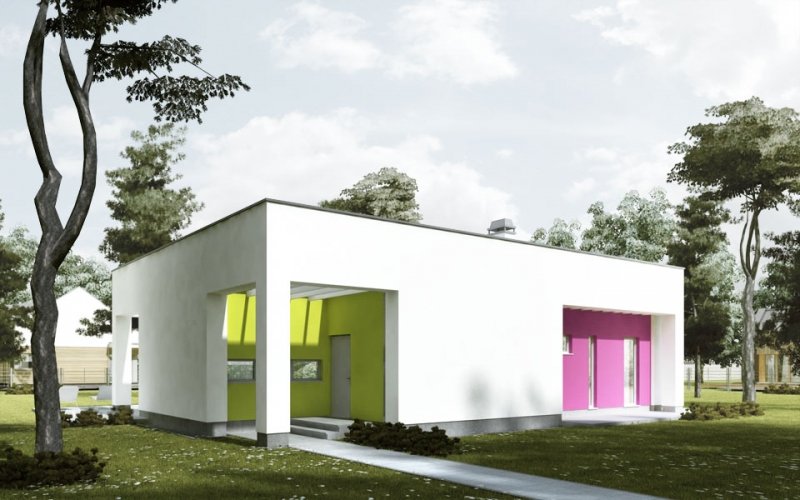 HOUSE DESIGN WITH AN ATTIC DOMO 05C, PDJ-4770
DESCRIPTION
A small one-story house with a modernist block designed on a cross plan. This gives the opportunity to locate it on any oriented plot and to separate intimate terraces serving individual areas of the house highlighted with vivid colors. The house is covered with a simple gable roof hidden behind the attic.
The house plan creates a clear division into the night and day zones. From the hall additionally equipped with a separate wardrobe we get to the hall with access to the toilet and utility room. The recreation area is an independent large living room with fireplace connecting to the dining room and kitchen in a separate wing of the house. A practical and spacious kitchen with a view of the entrance area gives the opportunity to observe this part of the environment.
From the hall we also get to the night zone which consists of three bedrooms and a bathroom.
A luxurious and graceful small house for a family who likes comfort, space and contact with nature. Strongly perforated ground floor gives the possibility of an interesting arrangement of the garden backyard zone. This can be important for people who enjoy contact with the environment. Terraces serving most of the rooms in the house perfectly complement this assumption.
TECHNICAL DATA
HOUSE DESIGN WITH AN ATTIC DOMO 05C, PDJ-4770
The area is 107.00 m²
The building area is 137.00 m²
Volume 562.20 m³
A depression angle of a roof 14.00 °
Building height 4.51 m
Min. Plot dimensions 20.80×18.00 m
Author arch. R. Tomecki