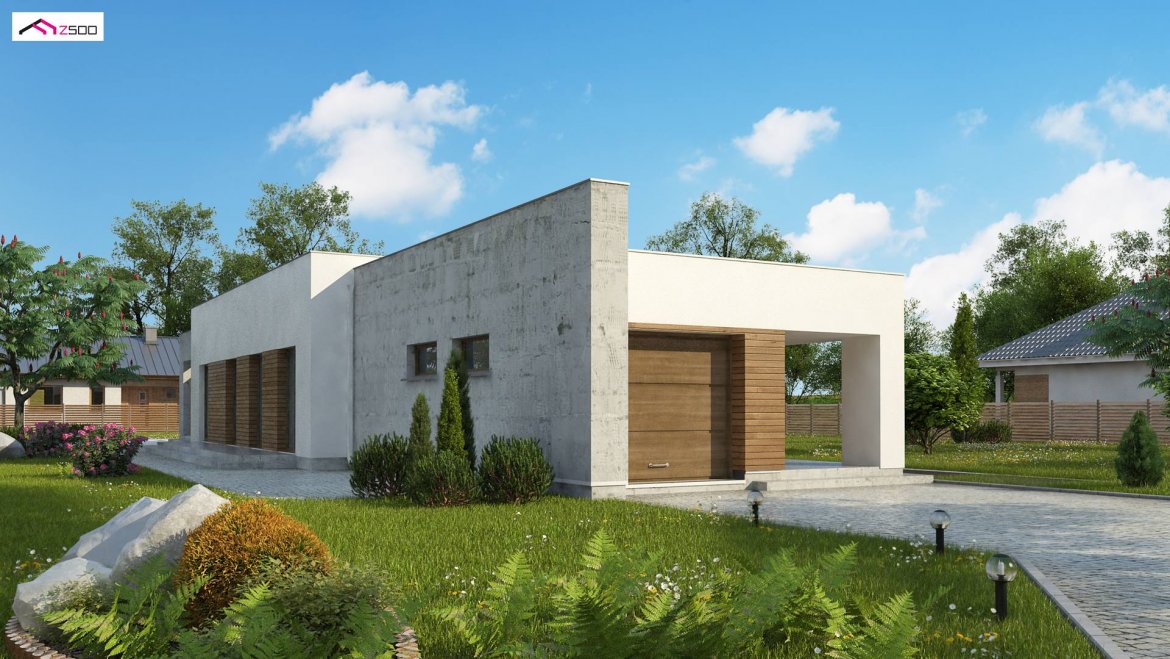 HOUSE DESIGN WITH AN ATTIC ZX129, PDJ -9421
DESCRIPTION
Zx129 is another of the Z500 series of houses, intended for a narrow plot, which will provide its owners with great satisfaction.
1 – Has portfolio windows for an elegant look and the possibility of going out to the terrace.
2 – is divided into comfortable zones: day and night.
3 – a narrow plot ceases to be a problem and becomes an option.
The modern minimalist body and the harshness of architecture are expressed in an elongated, compact body without decorations and in a flat roof covering. Architectural concrete and wooden cladding act as finishing elements.
Despite the reduced dimensions of the plot, the architects managed to find space in a dedicated house for a family of 4-5 people.
The functional layout of the rooms is divided into a day zone in the form of a spacious living room, kitchen and dining room, and a night zone in which 3 rooms fit.
Undoubtedly, terraces are a big advantage. Exit leads from every room. Thanks to this, enthusiasts of sunbathing can "chase the sun", from dawn to dusk, passing from one terrace to another. In contrast, enthusiasts of evening events have the option of building a fireplace on the main terrace. It gives us the opportunity to spend time there also to get closer to nature, not only in the reflections of sunlight, but also in the glow of warm flames dancing in the fireplace fire.
TECHNICAL DATA
HOUSE DESIGN WITH AN ATTIC ZX129, PDJ -9421
Usable floor area: 134.09 m²
The building area is 196.00 m²
Cubic capacity of 422.00 m³
A depression angle of a roof 2.00 °
Roof area 166.50 m²
Building height 4.20 m
Min. Plot dimensions: 35.26×16.66 m
21.18 m² garage
Author Piotr Zwierzyński