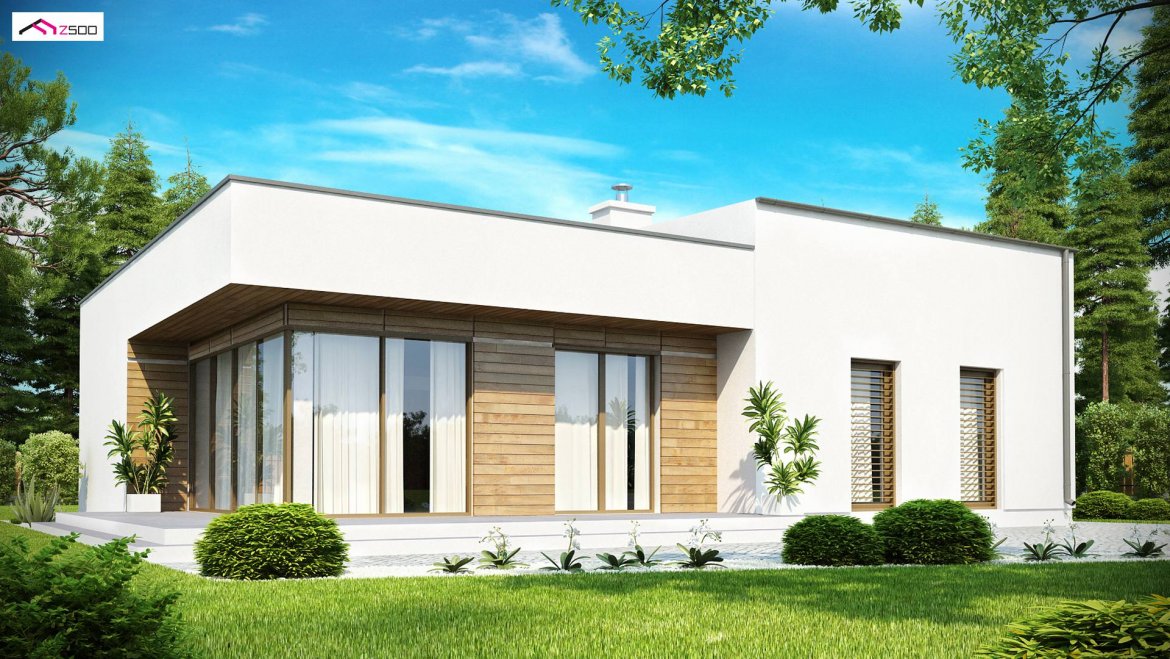 PROJECT OF TWO-FAMILY HOUSE ZX35, PDJ -4454
DESCRIPTION
Zx35 is a modern one-story house with a flat roof. It owes its innovative character to a simple block, roof slopes hidden behind the attic and large glazing in the living room. White plastered facade and wooden cladding are a great complement to the modern style.
The main part of the house is a spacious, bright living room with a corner fireplace. Large glazing surfaces make the room bright and natural. Sliding glass doors lead to a spacious terrace. The dining room has been functionally integrated into the living room. The comfortable kitchen has a passage from the pantry to the hallway, which facilitates shopping bypassing the lavish living room.
The rest of the house is three comfortable bedrooms, which can be separated from the living area, e.g. by folding doors. The largest of them has its own bathroom, illuminated with two windows, with a shower. A large wardrobe in the hall will certainly accommodate the most necessary things and lumber. A compact house can be adapted as low-energy.
TECHNICAL DATA
PROJECT OF TWO-FAMILY HOUSE ZX35, PDJ -4454
Usable floor area: 113.20 m²
The building area is 139.63 m²
Cubature 300.00 m³
A depression angle of a roof 2.00 °
Roof area: 149.14 m²
Building height 5.30 m
Min. Plot dimensions 18.74×21.74 m
Author Piotr Zwierzyński