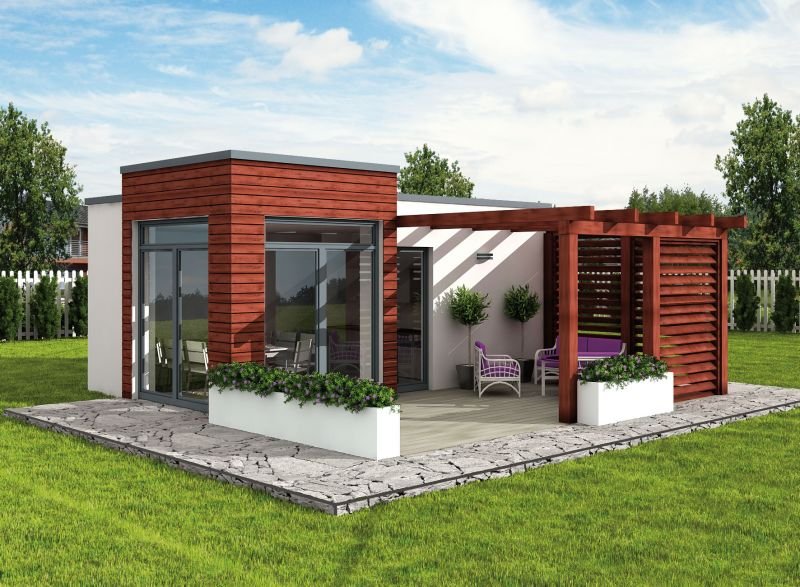 SUMMER HOUSE DESIGN PALMAS HOLIDAY HOUSE, PDJ-8695
DESCRIPTION
Do you dream of a holiday home in a quiet holiday resort? Perhaps Palmas is your dream come true?
Living room with kitchenette, sleeping area, bathroom, wardrobe create a space tailored to your needs to relax and enjoy life.
The project consists of an architectural and structural part, internal water and sewage installations, as well as electricity. The project includes a basic set of steel, wood and window and door joinery. We attach to the project free consent for introducing changes, a statement of the designers about the implementation of the project in accordance with applicable standards and regulations, as well as photocopies of the designers' rights with a current entry to the chamber.
TECHNICAL DATA
SUMMER HOUSE DESIGN PALMAS HOLIDAY HOUSE, PDJ-8695
Usable floor area 21.51 m²
The building area is 27.25 m²
Cubature 64.00 m³
A depression angle of a roof 3.00 °
Building height 3.36 m
Min. Plot dimensions: 13.27×11.38 m
Author arch. Krzysztof Biodrowicz