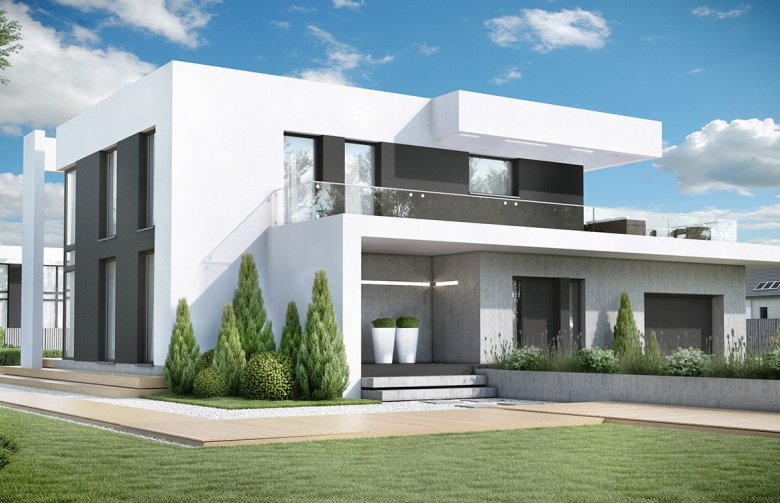 HOMEKONCEPT 34 STORY HOUSE DESIGN, PDJ -9713
DESCRIPTION
HomeKONCEPT-34 is a smaller version of the unique HomeKONCEPT-30 house. It is distinguished by a modern, expressive character of the body underlined by unique entablature. The unusual style of this house is expressed by a simple and legible block and geometric detail. The modernist form is emphasized by the facade finish composed in shades of white and gray combined with dark window frames.
This impressive block hides a very functional interior. The ground floor is primarily a spacious day zone with a centrally located fireplace. The open kitchen, dining room and spacious living room form one room. The unique corner glazing shows a panoramic view of the garden and wonderfully illuminates the interior. Next to the living room, there is an arranged study with access to the terrace, and a number of functional additional rooms – by the kitchen it is a pantry, and by the garage a utility room with an entrance from the outside. The first floor is the night zone of the household. Three bedrooms have been designed here (including a double bedroom with its own bathroom and access to a beautiful terrace), a second bathroom with a separate laundry room and a shared wardrobe.
The HomeKONCEPT-34 design impresses with unusual, two-storey glazing. The arrangement of windows and their surface are a guarantee of bright, full of natural light interiors. A spacious and very pleasant terrace topped with a single garage is topped with a white, decorative pergola.
TECHNICAL DATA
HOMEKONCEPT 34 STORY HOUSE DESIGN, PDJ -9713
Usable floor area 198.84 m²
The built-up area is 172.06 m²
Volume 1050.00 m³
A depression angle of a roof 2.00 °
Building height 7.25 m
Min. Plot dimensions: 25.10×19.35 m
23.58 m² garage
Author of the Homekoncept team