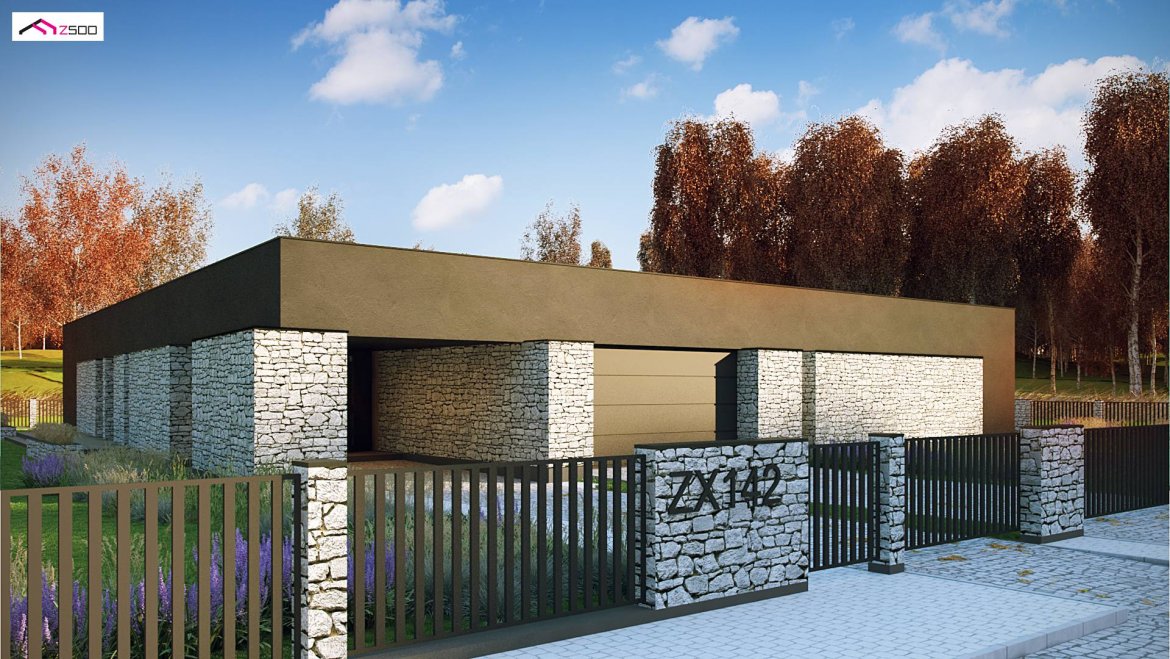 PROJECT OF TWO-FAMILY HOUSE ZX142, PDJ -10026
DESCRIPTION
Zx142 is a one-story proposal of a modern house in the shape of the letter "L", with a flat roof, large glazed windows and three parking spaces.
The facade was decorated with stone, wood and dark graphite plaster.
The entrance to the building leads through a wide arcade – an additional parking space for guests visiting us, or for us if we are to use our double track again in a moment.
After entering, everyone will notice the order and order due to the wardrobe. It is thanks to her that we will not stumble in the hallway for shoes that household members will gladly leave behind closed doors.
The generously glazed corridor leads to the day or night part of the house. The building was opened to the garden with glazing to provide residents with an optimal amount of daylight.
The right side is a luminous living room combined with a dining room. They were separated from the kitchen by a warm, cozy fireplace. The architects also remembered about the convenient, handy pantry. Every chef will appreciate it.
Left side – these are bedroom rooms and an additional separated economic zone – laundry room and utility room. Each of the rooms has an entrance leading through the wardrobe and an exit leading to one of the two terraces. One of them is a private terrace, belonging to two rooms, while the other is an integral part of the garden.
An additional advantage of garden architecture is a gazebo. There, in a covered place, we can spend time outdoors, near the entrance to the pool.
The Zx142 project is dedicated to demanding, extraordinary people who like to stand out. The architects wanted to create a slanted "L" design with an ambiguous character.
TECHNICAL DATA
PROJECT OF TWO-FAMILY HOUSE ZX142, PDJ -10026
Usable floor area: 171.00 m²
Built-up area 275.64 m²
Cubature 652.74 m³
A depression angle of a roof 1.00 °
Roof area: 298.38 m²
Building height 4.20 m
Min. Plot dimensions: 35.46×29.91 m
Garage 36.30 m²
Author arch. Piotr Zwierzyński