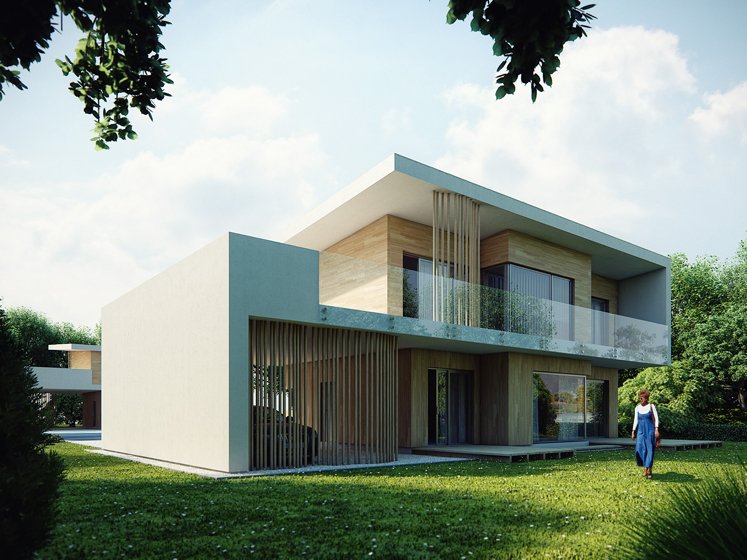 TRADITIONAL HOUSE DESIGN HOUSE_08, PDJ -3749
DESCRIPTION
A two-story house with a modern shape for a family of 4.
The body of the building is designed on a rectangular plan with a fragmented garden facade and large glazing in the living room and dining room.
The functional layout of the building has an entrance zone with a boiler room and toilet, a day zone with a semi-open kitchen connected to the dining room, a living room and a small living room with a fireplace connected to the staircase. On the first floor there is a private part, which consists of a bedroom with two wardrobes, two bedrooms, bathroom and laundry.
FUNCTIONAL PROGRAM:
Ground floor: boiler room, hall + wardrobe, toilet, kitchen + dining room, living room + sitting room with fireplace, garage, covered terrace
Floor: room with two wardrobes, 2 rooms, bathroom, laundry.
TECHNICAL DATA
TRADITIONAL HOUSE DESIGN HOUSE_08, PDJ -3749
Usable floor area: 141.92 m²
The built-up area is 192.75 m²
Cubic capacity of 1,141.80 m³
A depression angle of a roof 5.00 °
Building height 7.80 m
Min. Plot dimensions: 25.10×20.65 m
54.55 m² garage
Author arch. Renata Majchrzak