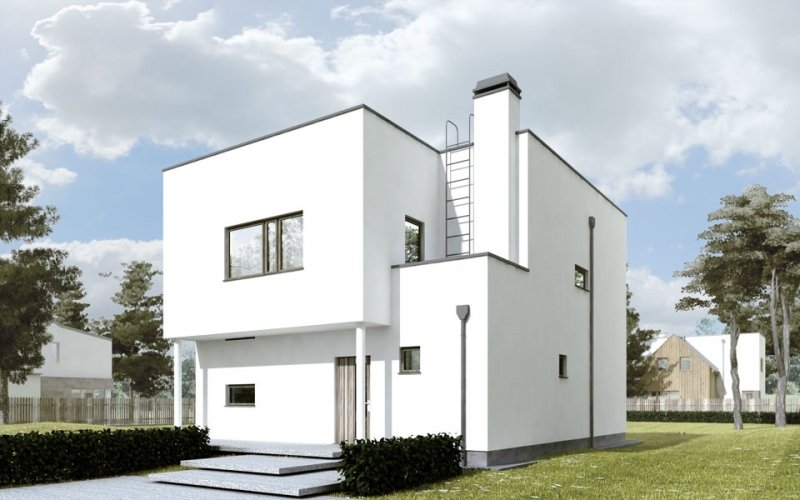 HOUSE DESIGN WITH AN ATTIC DOMO 01D, PDJ-4788
DESCRIPTION
A minimalist house with a simple form. The compact body based on a plan similar to a square is covered with a gable roof hidden behind the attic wall. The form of the building gives it urban rather than rustic character. The advantage is terraces with access from all bedrooms and a large entrance arcade, enabling comfortable use of the front area.
The ground floor of the building is maximally open. From the entrance hall we get to the hall open to the living part of the house. On the entrance axis there is a spacious bright living room with a fireplace permeating the dining room and a functional kitchen with a view of the garden front zone. Large openings on the ground floor allow for free integration of the house with the garden. A utility room and toilet were also located on the ground floor.
On the first floor there are three well-lit comfortable bedrooms and a shared large bathroom and wardrobe. All bedrooms have access to the terraces.
The main advantage of the house is a small building area and modernist form. This allows you to locate the building even on a very small plot. It is home to practical people who want to reach a compromise between the capacity of the house and its scale. The use of white plaster is inspired by modern architecture and minimizes the costs associated with finishing the house. A home for people who are brave and like challenges.
TECHNICAL DATA
HOUSE DESIGN WITH AN ATTIC DOMO 01D, PDJ-4788
Usable floor area: 142.20 m²
The building area is 96.40 m²
Cubature 763.60 m³
A depression angle of a roof 11.00 °
Building height 7.50 m
Min. Plot dimensions 19.30×17.20 m
Author arch. R. Tomecki