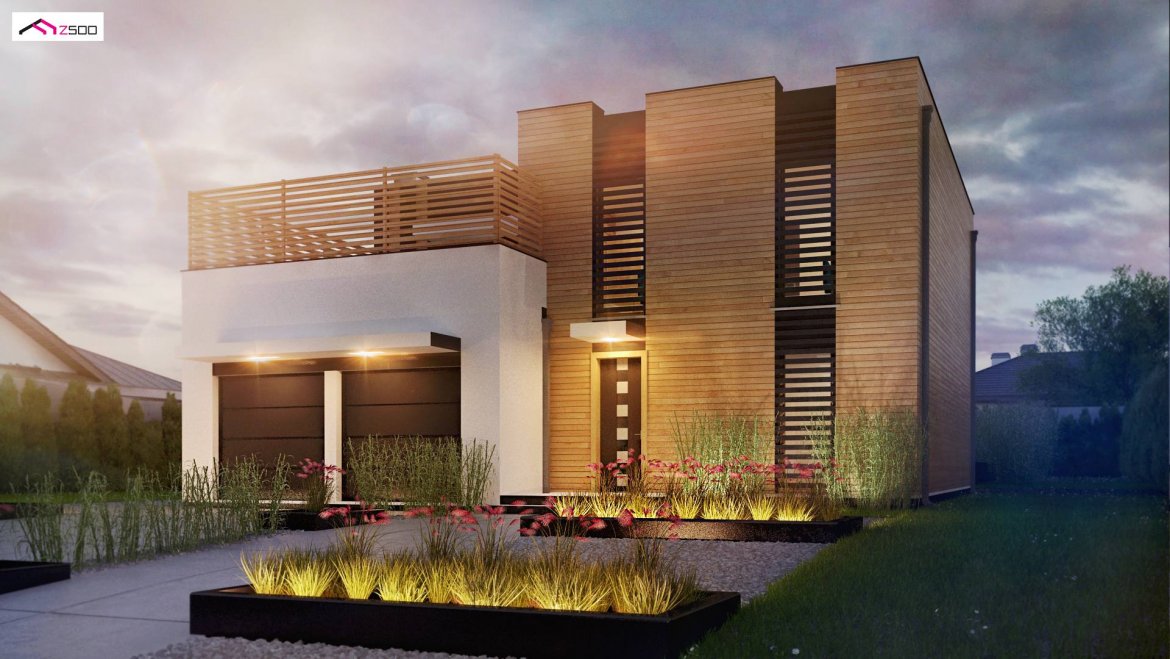 HOUSE DESIGN WITH AN ATTIC ZX120, PDJ -8824
DESCRIPTION
Zx120 is a two-storey, multi-story house with a double garage. It can be a two-family flat. Thanks to the unique ingenuity of the architect, it combines modern minimalism and functionality. The residence is perfectly adapted to the present day. It can become a two-generation home when you don't want to climb stairs in old age, as well as the home of a young married couple. Separate wardrobes and 2 storage spaces in the garage make the house ideal for rent. The possibility of closing the ground floor and the floor next to the staircase separately is a valuable privacy that both the landlord and tenant will experience. And the loan is paid off by itself …
On the ground floor there is a representative area – kitchen connected with the living room and dining room. From the terrace, descend to the pool in the garden. The room located near the living room can be used as a study or an additional bedroom, because it is located near the bathroom.
A large utility room is ideally suited to any type of heating, giving the future owner the opportunity to choose.
On the first floor there is a bedroom with a wardrobe, two rooms that can be used as study rooms or rooms for children, and the spacious terrace increases the space by an additional place of longed-for rest.
If you dream about more windows – no problem. Our adaptation department will expertly advise you on how to best make changes.
Facade cladding made of natural wood, interesting colors and the use of original window joinery highlight the modern look and   unique functionality of the Zx120 house.
TECHNICAL DATA
HOUSE DESIGN WITH AN ATTIC ZX120, PDJ -8824
Usable floor area: 170.13 m²
The built-up area is 166.50 m²
Cubic capacity 549.75 cubic meters
A depression angle of a roof 3.00 °
Roof area: 77.64 m²
Building height 7.35 m
Min. Plot dimensions 22.96×18.86 m
Garage 35.36 m²
The deadline is set by phone
Author Piotr Zwierzyński