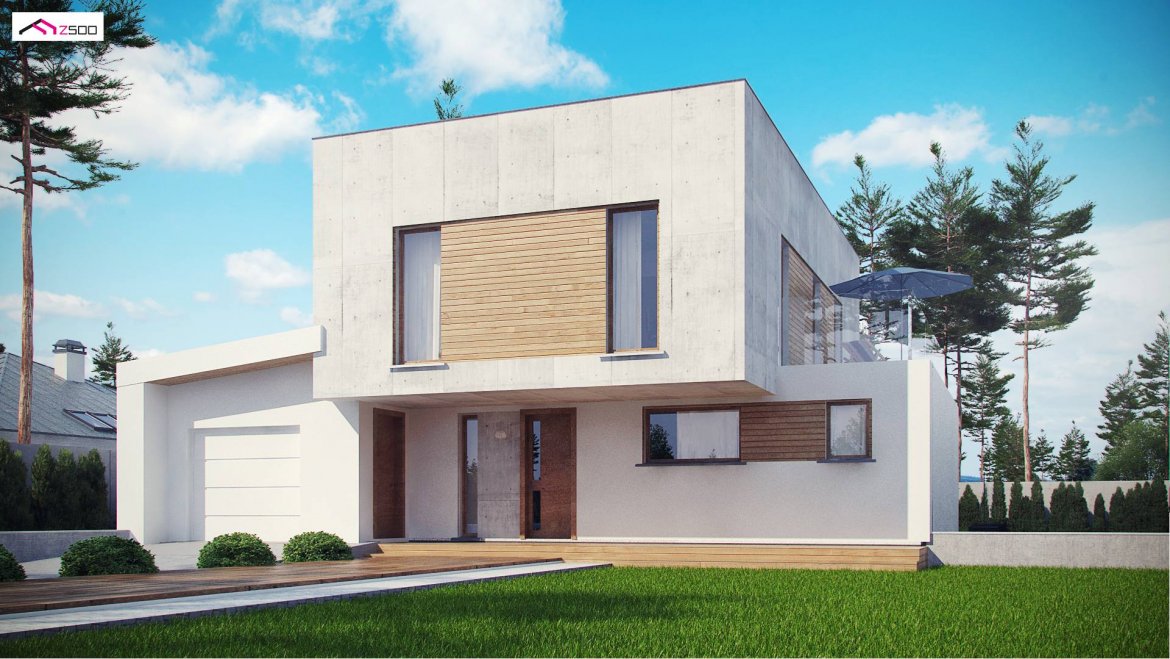 HOUSE DESIGN WITH AN ATTIC ZX121, PDJ -8820
DESCRIPTION
The Zx121 project is a modern two-story house with a terrace and a single-car garage. The house has a comfortable and functional space thanks to the shape of the building. It consists of two basic geometric solids, perpendicular to each other. This gives an interesting visual effect and provides roofing on the terrace and above the entrance to the house.
From the garage mentioned above we can get to the pantry, from there, in the kitchen. It is a very practical solution in cases when we return from larger grocery purchases. Then we leave our food in the pantry directly from the garage. From there, we are only one step away to our kitchen kingdom. Thanks to this, when preparing the feast for the palate, we have everything we need "at hand", while maintaining order and order around.
Directly from the garage you can pierce the entrance to the wardrobe, which is connected to the hall – you will not need to go outside the house on cold days to get directly to the car.
An undoubted advantage is also a separate entrance from the garage to the utility room, connected to the back exit to the garden, in which we can arrange objects and devices useful in the garden, as well as the necessary clothes for a change.
On the ground floor, in the center of a spacious living room, there is a fireplace. The living room can be further expanded with a kitchenette and dining area by removing the wall separating it from the kitchen.
An additional room with an adjoining bathroom has been planned – an ideal place for a relaxing bath in a tub full of foam.
On the first floor there are three bedrooms, one with a bathroom and wardrobe, the other with a recess that can be used as a wardrobe or DIY corner and the third that can have an exit to the roof of the garage as a terrace. A separate large bathroom for the whole family is an additional advantage. You can keep things in it that are not intended for the eyes of guests visiting us.
Good communication, functionality and the ability to use every nook and cranny of the rooms will help us become the "perfect housewife" and "good host".
TECHNICAL DATA
HOUSE DESIGN WITH AN ATTIC ZX121, PDJ -8820
Usable floor area: 148.01 m²
The built-up area is 172.79 m²
Cubic capacity of 493.25 m³
A depression angle of a roof 3.00 °
Roof area 136.00 m²
Building height 7.10 m
Min. Plot dimensions 20.65×20.64 m
Garage 29.30 m²
Author Piotr Zwierzyński