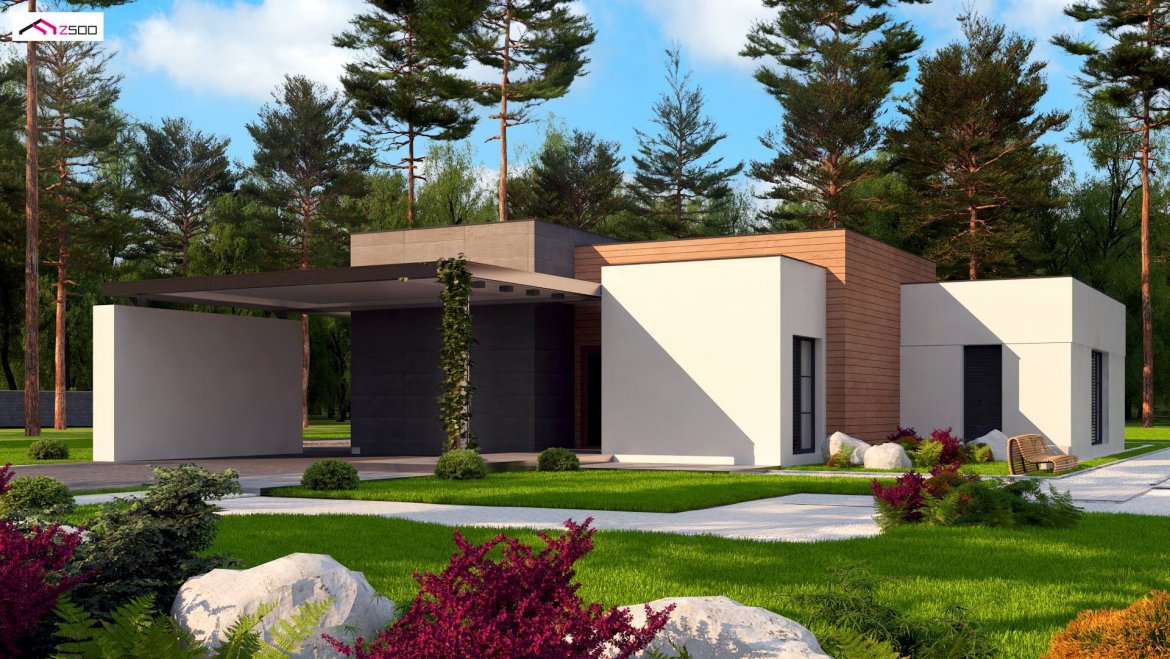 HOUSE DESIGN WITH AN ATTIC ZX183, PDJ-10032
DESCRIPTION
A one-story house, modern, with a double carport and flat roof. The combination of white and gray, large glazing and decorative blinds provide an elegant finish to the block. The large carport can easily accommodate 2 cars.
The roofed entrance leads to the entrance hall, which is the connecting link between the utility room and the rest of the house.
The left part of the house is a day zone. These include a spacious living room with dining room, kitchen and handy pantry. A warm fireplace is laid out near the sliding wall, thanks to which we will enlarge the living area by the terrace area. It provides an abundant source of light even on cloudy days.
The right part of the house is a night zone, which consists of 3 bedrooms. Entrance to each of them leads through a personal wardrobe. This is a big advantage, especially for forgetful people who in the morning rush will not take something warm into their clothes – there is no need to enter the room. After work, we encourage you to relax on the terrace. Each of the rooms has its own exit, thanks to which we will leave afternoon tiredness behind the terrace doors. In the middle of the house, panoramic windows allow you to admire the flowing water that begins its way around the main hall and ends at the dining room.
The Zx183 project is a proposal for a modern home for demanding and family people at the same time.
TECHNICAL DATA
HOUSE DESIGN WITH AN ATTIC ZX183, PDJ-10032
Usable floor area: 175.02 m²
The built-up area is 228.28 m²
Cubature 554.08 m³
A depression angle of a roof 1.00 °
Roof area: 283.48 m²
Building height 5.35 m
Min. Plot dimensions: 30.99×25.06 m
Author arch. Piotr Zwierzyński